The Roland FP-30 review – compact and portable digital piano
The Roland FP-30 review – compact and portable digital piano
Why are Roland electric pianos so popular?
Roland is one of the most popular brands for electric pianos. And there is a good reason for this popularity. Because Roland instruments are known for their sound quality and innovation. They are also very versatile and well made.
Roland looks back on a long tradition as a manufacturer of digital pianos. Roland was founded in Osaka, Japan in 1972. The range includes a wide range of digital pianos, organs, synthesizers, e-drums and groove boxes. Roland is one of the largest manufacturers of electronic musical instruments. Roland introduced the first electric piano as early as 1973. The EP-10 was the first fully electronic oscillator-based piano. A year later, Roland presented the world's first electric piano with a velocity-sensitive keyboard, the EP-30. Touch-sensitive keyboards were a novelty back then and are now standard equipment on every digital piano.
The Roland FP-30 is a recommendation for anyone looking for a very good advanced electric piano at an affordable price. In addition to the functions known from the Roland FP-10, it offers many important upgrades.
First of all, the Roland FP-30 convinces with its rich and brilliant grand piano sound and polyphony of 128 voices. The heart of the Roland FP-30 is the famous SuperNATURAL sound engine. A total of 35 excellently sampled instruments are on board. A rich variety of pianos and electric pianos and many other great-sounding sounds that are a lot of fun to play.
In the FP-30, Roland installs the proven and much-praised PHA-4 standard keyboard. It plays very well and fluently and allows for subtle and nuanced playing like on an acoustic piano or grand piano. The keys are also equipped with an Ivory Touch surface, a slightly rough surface that ensures better control when playing.
The intuitive operation is also commendable. Bluetooth is already integrated and allows a fast and uncomplicated connection to iPhone, iPad, Android devices, or PC. The free "Piano Partner2" app from Roland allows you to conveniently control the most important settings on the touchscreen. Many other apps are also available.
With its excellent sound and a very good keyboard, the Roland FP-30 is a real recommendation! Thanks to its compact design, it is very suitable as a digital piano at home, but also as a stage piano for stage performances and music productions.
The Roland FP-30 review
Full, dynamic sound thanks to the well-known SuperNATURAL piano tone generation

88th PHA-4 standard keyboard for authentic piano playing with maximum expressiveness

Powerful amplifier and stereo speakers for an impressive sound

Headphone output and very low keyboard playing noise for playing at any time of the day or night without disturbing other people

Compact design and low weight for easy transport to play the piano anywhere – at home, at school, or "on the road"

Built-in Bluetooth wireless functionality for using music apps like GarageBand, piaScore, Sheet Music Direct. and much more. in connection with smartphones or tablets

Dual/split playing modes and a large selection of other timbres such as organ, strings, vocal sounds, and drums expand the musical possibilities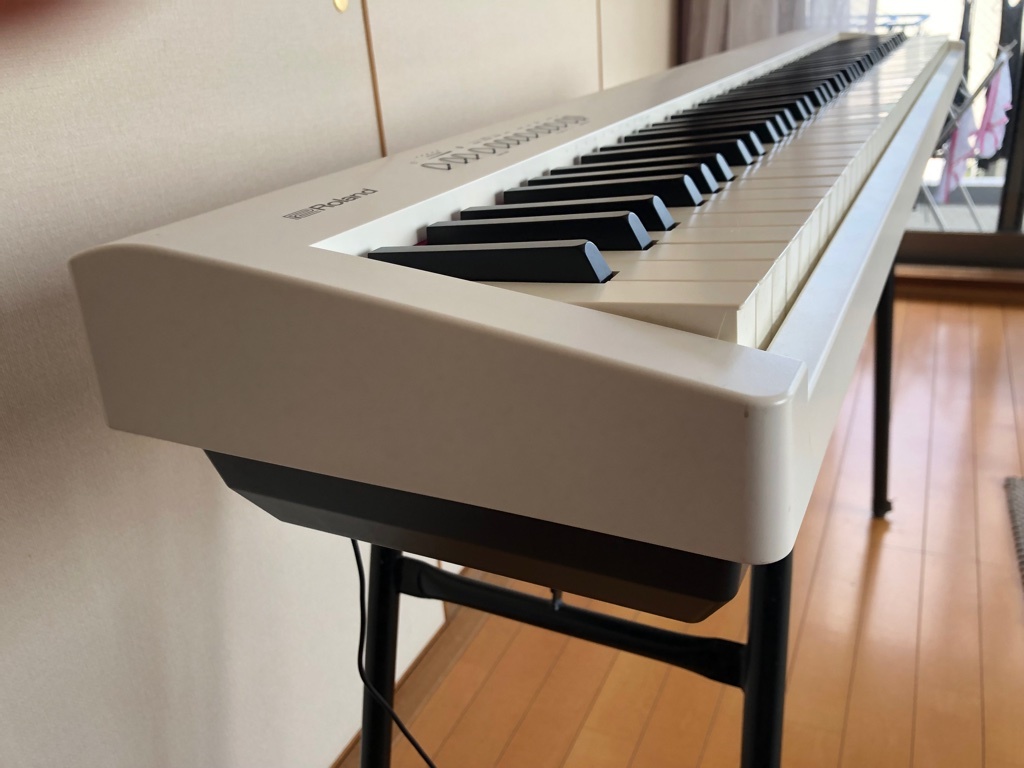 Twin piano mode for dividing the keyboard into two independent areas so that two people can play one instrument at the same time – ideal for music lessons

Using a USB stick, you can save your own recordings from the internal SMF recorder and play WAV audio data and SMF songs

Optional accessories, such as the matching stand and the 3-way pedal unit, extend the functionality and appearance of the classic home piano, including the page-turn function, which allows hands-free turning of digital scores.
Roland electric pianos: innovation and sound quality
Roland is a pioneer from the very beginning and has specialized in the production of digital pianos for over 40 years. The pianos are exceptionally high quality and designed to last. The range includes both classically stylish home digital pianos and portable pianos for use at home or on stage. Roland's digital pianos offer excellent sound and equipment for every requirement, both for beginners and advanced players.
Roland has significantly improved the FP-30 and completely revised it compared to its predecessor F-20. It has numerous new functions such as the new PHA-4 standard keyboard. The sound and the pedals have also been improved. It also offers the option of establishing a connection via Bluetooth.
The FP-30 is a very compact digital piano, it weighs just 14 kg. It is particularly suitable for musicians who travel a lot and need a very portable instrument. But also for everyone who has limited space at home. If necessary, the FP-30 can also be placed on a table without any problems. It is just 28 cm wide and 15 cm high and measures 130 cm in length.
Compared to the F-20, the appearance has been refreshed. The design is clear and comes with a number of illuminated buttons that are necessary for operation. There are a total of 13 buttons with which you can access the most important sounds and functions of the FP-30. Most settings are changed by holding down one of the buttons and pressing one of the buttons. This is not particularly practical because you have to memorize these combinations or refer to the manual over and over again.
This type of operation is cumbersome but can be found in every digital piano in this price range. Fortunately, it's not the only way to operate the FP-30. A connection to the Roland Piano Partner 2 app is very easy using Bluetooth. With the help of this app, the operation is easy and intuitive.
The housing of the FP-30 is available in two colors, black and white.
Roland fp-30 digital piano dimensions
88 keys
Keyboard: PHA-IV Action with Ivory Feel
integrated Bluetooth 4.0 radio connection
Sound generation: Supernatural Piano
35 different sounds with a max. Polyphony of 128 voices
Transpose function
built-in metronome
SMF recorder – capture ideas
Keyboard modes: Norma, Dual, Split, and Twin Piano
8 standard accompaniment rhythms
Audio playback of WAV files (44.1kHz / 16bit)
MIDI playback from USB sticks
illuminated controls
powerful speaker system 2x 11 W – 12 cm
Maximum sound pressure level: 102 dB
DC IN jack
USB computer port: USB type B
USB MEMORY connector: USB type A
Headphone sockets (can be used as output socket): stereo mini jack, stereo 6.3 mm jack
Dimensions (W x D x H): 130 x 28.4 x 15 cm
Weight: 14.1 kg
Color white
Incl. power supply unit, music stand, single pedal
Fully weighted hammer keyboard with pressure point simulation
The new PHA-4 standard keyboard is built into the Roland FP-30. It is the fourth generation of the PHA (Progressive Hammer Action) keyboard developed by Roland. It is the successor to Roland's Ivory Feel G keyboard (PHA-3). The keyboard has a new mechanism and produces much less gaming noise. It has a 3-sensor system and offers precise and fluid play. It is a weighted, velocity-sensitive hammer keyboard with pressure point simulation and Ivory Feel. Weighted means that the keys are heavier in the bass range and lighter in the higher range, just like the acoustic piano. The hammer mechanism, the 3-sensor technology and the key surfaces made of synthetic ivory offer a very realistic gaming experience.
The keys have an Ivory Feel surface, which is an imitation of the ivory coating of the keys known from the piano. The FP-30 also offers a touch sensitivity that can be adjusted to five levels. You can adapt these to your preferences. Settings for Super Heavy, Heavy, Medium, Light or Super Light are available, as well as the Fixed setting . When the Fixed setting is selected, the volume stays the same no matter how hard you hit the keys. The Super Heavy setting offers the greatest dynamic between pianissimo and fortissimo and enables the most expressive playing.
Roland FP-30: Rich grand piano sound
The Roland FP-30 uses the SuperNATURAL piano sound . Probably the most common will be the piano sounds. The FP-30 has a total of 35 different sounds on board. In the "Piano" category there are a total of 6 different pianos on board. Grand Piano 1 sounds brilliant and balanced. A rich grand piano sound with natural sounding resonances. The other two piano sounds on the FP-30 are modified versions of this grand piano, and one sounds softer and the other lighter. All three are very useful, individually usable piano sounds for a wide variety of occasions. A ragtime piano is also on board, and two harpsichords.
In addition to the piano sounds, the FP-30 offers a whole range of other instruments to let your creativity run free. So practicing will never be boring and there is always the right sound on board for every style.
The FP-30 has a total of 35 built-in instrument sounds :
4 pianos
3 electric pianos
4 organs
3 string instruments
2 harpsichords
Vibraphone
as well as accordion, harp, choirs, bass and many more
In addition, the  brilliance of  the sound and the reverb can be adjusted.
Polyphony
The FP-30 is equipped with a polyphony of 128 voices . Even with difficult passages or when playing in dual mode with two sounds layered on top of each other, you don't have to worry about notes being cut off.
Loudspeakers with rich, natural sound
The FP-30 is equipped with two loudspeakers that deliver 11 watts each.
Overall, the loudspeakers deliver a rich and natural sound and reproduce the basses particularly well. They are completely sufficient for making music at home and are even suitable for small performances.
Of course the sound volume is limited. This is not least due to the compact design and affects all portable pianos in this price range.
So it is definitely advisable to get high quality headphones. The sound can then be heard in a much more differentiated and detailed manner. In addition, you can then practice without disturbing others. Recommended headphones for the Roland FP-30 are, for example, the Roland RH-5 headphones . You can find a large selection of other suitable headphones for electric pianos in our large comparison test: The best headphones for electric pianos .
Roland FP-30: Other functions
Modes
The FP-30 has a split mode that divides the keyboard into two sections. A different sound can then be assigned to each section. The split point at which the keyboard is split is adjustable.
In dual mode  , two different instrument sounds can be superimposed, ie they then sound at the same time. For example, a piano sound with strings or an electric piano with harpsichord can be superimposed.
Another useful mode available on the FP-30 is called the  Twin Piano . In this mode the keyboard is divided into two equal sections. Each section has a middle C and the same pitches. So two players can sit next to each other and practice together. Most of the time it will be the teacher sitting next to a student. He plays a melody that the student plays on the other side of the keyboard.
Transposition and mood
The FP-30 has a number of functions that you can use to adjust the pitch of the instrument. This is useful, for example, when the pitch needs to be adapted to another instrument or a singer.
The transpose function  allows you to raise or lower the pitch in semitone steps.
For example, if you want to play a piano piece that is written in a difficult key, you can easily convert it to a key with fewer accidentals. You practice the piece in the easier key and then return it to the more difficult original key.
The octave shift function lets you change the pitch of the keyboard in octave steps.
Finally, with the Master Tuning function , you can  raise or lower the pitch of the entire keyboard in steps of  0.1 Hz .
Record songs
The FP-30 has a  1-track MIDI recorder that you can use to record your songs. You can then save this either in the internal memory of the piano or on a USB stick.
You can then not only play back your own recordings , but also the 30 built-in songs from the piano's memory. In addition, it is also possible to play MIDI and WAV files  directly from a USB stick.
If you want to record more than just one track with the FP-30, you can create multi-track recordings on your computer or tablet using music apps such as GarageBand or FL Studio.
Metronome and drum patterns to practice
The FP-30 also has a  metronome  on board. If practicing with the metronome gets too boring in the long run, you can also use one of the  8 drum patterns .
Connections of the FP-30: Bluetooth and USB
Directly under the keyboard on the front there are two headphone sockets, a standard socket for headphones with 6.3 mm connections and a mini jack with 3.5 mm connections. This is useful because you can connect your headphones without an adapter, regardless of which connection your headphones have.
The FP-30 has no special  line-out jacks . To connect the piano to external speakers or an amplifier, you must use one of the headphone jacks.
A USB stick or other flash drive can be connected to the piano via the USB port type A.
You can also record and save multiple recordings directly, because the FP-30 can only   save 1 song in the internal memory. Each new recording deletes all previously recorded recordings. You can also play MIDI  and  WAV files  directly from a stick via this USB connection  .
The jack socket is used to connect the sustain pedal. Other brands of sustain pedals will also work as long as they have a 6.3 mm plug.
There is a USB type B connector on the back of the instrument . The piano can be connected to a computer via this USB port. Then, for example, MIDI data can be transmitted or apps for music production or learning apps can be controlled.
There are a great many interesting and useful apps that can be used with the piano for recording and editing.
The FP-30 is also one of the few pianos in this price range that has Bluetooth on board. Alternatively, the FP-30 can also be  wirelessly  connected to the laptop or tablet and MIDI data can be exchanged.
In any case, this is a very practical function because it allows MIDI data to be exchanged without an adapter. This can cost a lot of money, especially with Apple devices.
Roland FP-30: Intuitive operation via apps
The Roland FP-30 is  particularly easy to use, and the Roland Piano Partner 2 app is a great way to make the Roland FP-30 particularly easy to use. It is offered by Roland free of charge for iOS and Android. The connection to the app is established wirelessly with Bluetooth, without cables or additional adapters.
For example, the instruments can be changed or the metronome set via the intuitive screen surface. The adjustment of surround sound and brilliance is then also possible as with a remote control. So this app is a good alternative for operation. Changing the settings is much easier and more intuitive than combining the FUNCTION button and piano keys.
Learning functions  and  hearing training are also integrated into the app  . This is especially useful for beginners and beginners. In an  exercise diary  you can also record the time that you have spent at the piano.
The best thing about this app is the digital access to sheet music . The best thing to do is to load the music directly onto your iPad or Android tablet, place the pad on the music board and start playing. If you also buy the KPD-70 three-pedal unit , you can even turn the pages with a foot pedal.
Roland FP-30: Scope of delivery and useful accessories
Everything you need to get started right away is included with the Roland FP-30:
power adapter
Operating instructions
Music stand
DP-2 Sustain Pedal
There are other useful accessories that make gaming even more enjoyable. We want to present some of them here.
Useful accessories
Keyboard stand
The FP-30 is supplied without a stand. So it is necessary to get one extra.
Roland offers the KSC-70 stand as a suitable substructure . This is a very good choice, especially if the stand is supplemented with the matching KPD-70 pedal bar .
If you are looking for a stand that is easier to transport or cheaper, you should use an X-stand or a Z-stand.
Damper pedal
The FP-30 comes with the  Roland DP-2  sustain pedal. It is a small plastic foot switch that does not give a particularly realistic pedal feel and does not support a half pedal. For more fun it is definitely advisable to buy a better pedal.
Roland offers the highly recommended Roland DP-10 Sustain Pedal with half- pedal support.
You can find an overview of other recommended pedals in our large comparison test: The best pedals for electric pianos .