Casio PX-S3000 portable piano review
Casio PX-S3000 portable piano review
The Casio PX-S3000 is a powerful portable piano for less than 1,000 dollars.
In terms of piano sounds, the PX-S3000 is very similar to the smaller model PX-S1000 and has a lot of fun to offer: automatic accompaniment, audio recorder, sequencer, etc.
The large range of functions requires a certain amount of training. The central functions of a digital piano are easy to use.
Packed in the same slim case as the Privia entry-level model PX-S1000, the Casio PX-S3000 is a more flexible and powerful alternative. The more expensive model provides the piano qualities of the former with an extended selection of sounds, an automatic accompaniment, and an audio recorder.
The on-board amplification delivers a powerful and clean sound.
The PX-S3000 weighs just 11.4 kilos, and the dimensions of 132.2 by 23.2 by 10.2 centimeters (W x H x D) correspond to those of the PX-S1000. This makes the PX-S3000 one of the most compact portable pianos. Nevertheless, there is space for an impressive control panel on the housing of the S3000, which can be either black or white. The look of the instrument is enhanced by a glass-like plastic plate above the user interface – modern and chic high-gloss design.
While the cheaper S1000 with 18 sounds appeals to players who are only looking for the basic equipment, the S3000 delivers a whopping 700 sounds (tones). This high number is of course also due to the 200 accompaniment styles (rhythms) on board that need to be instrumented, as well as for playing General MIDI songs. With a polyphony of 192 voices, nothing to be desired in the class under 1000 dollars.
Casio PX-S3000 Overview
Available since : 05.2019
Keyboard : 88 keys, Smart Scaled Hammer Action
Polyphony : 192 voices Sound
generation : Sampling
Scope of delivery : power supply, music holder, sustain pedal
Piano app : Casio Chordana Play for Piano (available free of charge for iOS & Android)
Manufacturer : Casio
Panel with a modern touch
As on the little brother, there are mainly illuminated touch buttons – albeit in significantly larger numbers: On the one hand, a group of buttons for selecting banks, sounds and registrations was thought of, and on the other, a separate group for controlling the integrated automatic accompaniment. Compared to the S1000, the S3000 also offers a three-line display with associated function pushbuttons. The purpose of the extended control panel is that no keyboard keys have to be used on the S3000 for sound and parameter switching – a clear advantage.
Plug, play, control
There is even space for two more rotary controls – the knobs – and a pitch wheel on the left of the S3000. The knobs can be assigned one of 14 sets of parameters such as brilliance and reverb intensity, filter cutoff and resonance or keyboard sound and arranger volume – a practical thing to quickly adjust important settings or to influence sounds live.
The PX-S3000 not only has a comfortable keyboard, it is also a bit roughened, like on high-quality grand pianos.
The keyboard of the Casio PX-S3000 plays well
The 88-note keyboard – it is the same as on the S1000's little brother – is pleasant to play: It is quite heavily weighted and has a scaled hammer mechanism. Although it lacks a third sensor, it still convinces with good repetition properties. In addition, the pleasant grip thanks to the roughened surfaces is pleasing. The software offers five dynamic curves for individual adaptation.
Simple operation, but not always self-explanatory
Casio has devised the operation of the portable piano in a completely new and sensible way, but it is not always self-explanatory. For example, the right-hand touch button group is largely controlled via a double-arrow function button. This determines whether the other six buttons in a group should be used for selecting tones, rhythms, registrations, or functions such as split, layer, effect settings and others.
The numerous sounds are sorted into just six categories and are switched through with "+" and "-" – you quickly miss an endless wheel. It also gets a bit tricky if you want to set different octaves and volumes for the three parts (Upper 1 and 2, Lower) for a split-layer configuration. 
Nevertheless, you can find your way around, you just have to get used to it. Ultimately, one should not underestimate the immense range of functions of the S3000 – it is by no means a given in this price range. It should actually be clear that a look at the operating instructions is necessary, at least initially.
The Casio PX-S3000 offers fine grand piano sounds
The very good grand piano sounds "Grand Piano Concert", "Grand Piano Bright" and "Grand Piano Mellow" are also the hallmarks of the PX-S3000. The basic multisample of this grand piano sound seems to be a slightly different variant compared to the S1000. But it plays on a great level.
A balanced piano sound in all registers that can be played dynamically and expressively. The string resonances and damper resonance in the pedal as well as virtual grand piano noises enrich the sound with authentic details. As with the little brother, these can be adjusted in intensity. Overall, this results in a flexible, high-quality grand piano sound that is seldom found in this price range.
Key action
To do justice to the compact size and to achieve an authentic piano touch, Casio has developed a brand new key action, the Smart Scaled Hammer Action.
Smart Scaled Hammer Action on the Casio PX S1000
It successfully reduces the size without compromising touch quality. In contrast to the previous Tri-Sensor II promotion with a scaled hammer, this new promotion only uses two sensors.
The magic is in the software. By tracking the position and movement of each key, the software can intellectually determine what the pianist is trying to achieve and adjust the response.
As a result, this new button action offers a good dynamic range for control, and rapid repetition is just as good as triple captured actions.
It also offers pretty unanimous touch along the length of each key. Only at the very end of the white keys would you notice a significant decrease in responsiveness. For such a compact action, I'd say Casio did an excellent job.
Overall, the feel of the PX S3000 is authentic and comes very close to an acoustic piano. The only complaint I have is probably the weight of this keyboard. It feels a little too easy. Thanks to the impressive sensitivity, the low weight is easy to get used to.
Accessories
Like the S1000, the S3000 also has a simple footswitch that acts as a damper pedal. It doesn't assist half-stepping and doesn't feel like a piano pedal at all.
It is strongly recommended that you purchase a suitable pedal unit for the PX S3000. Casio's three-pedal SP-34 has all of the pedals you would find on an acoustic piano. It has a damper, soft, and sostenuto, and all support half-pedaling. Alternatively, you can also find high-quality third-party pedal units.
Depending on your needs, you may also want an expression pedal.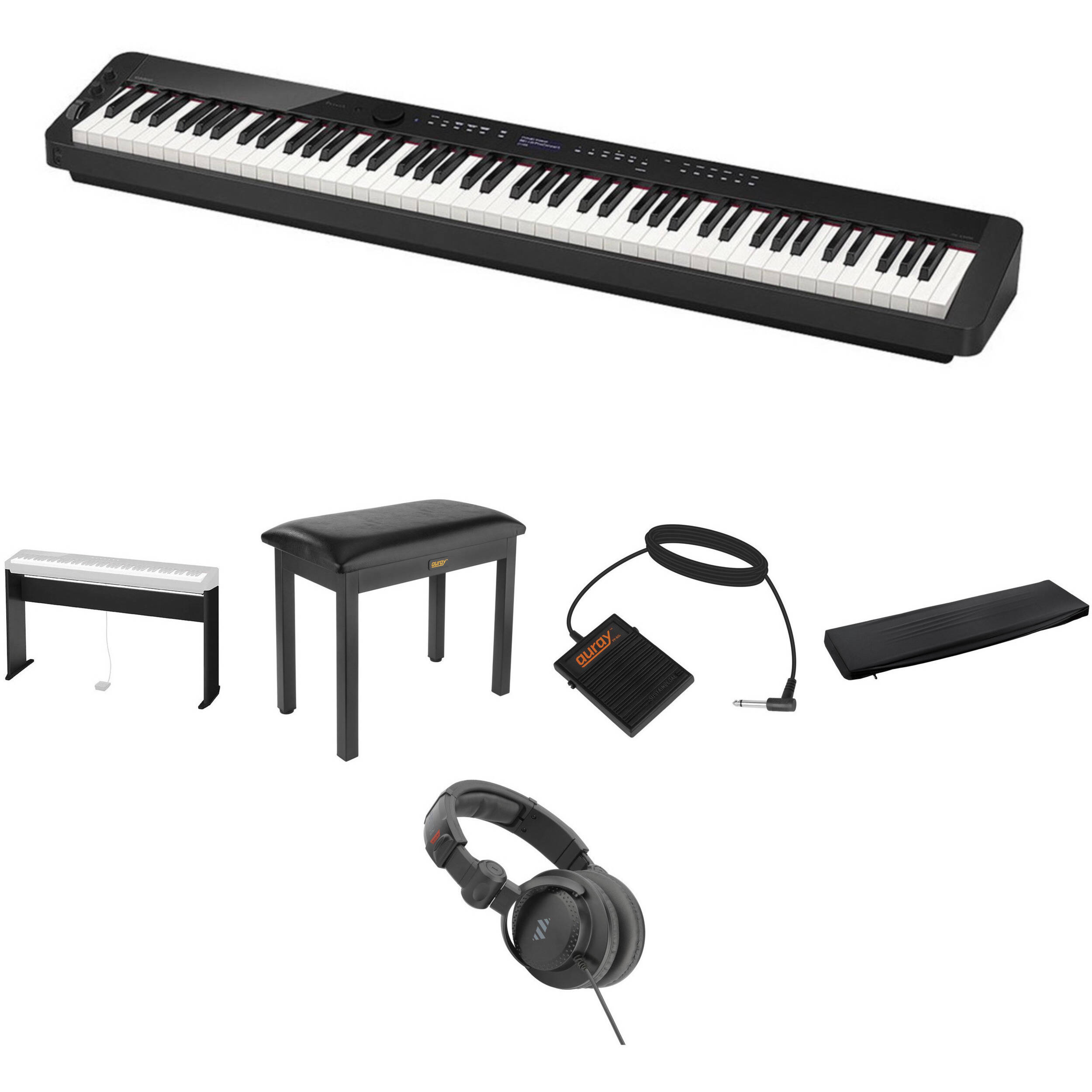 If the piano is primarily intended for home use, then Casio's CS-68P stand is specially designed for the PX S3000. You can also use an X or Z stand for portability.
To carry the piano around, Casio designed a carrying case for the PX S3000. It fits the piano exactly and has two separate pockets for the music stand and the pedal unit. Because the PX S3000 is so light, you can easily carry it on your shoulders.
As with any digital piano, good headphones are always recommended.
The speaker system on the PX S3000 is weak but of good quality. For home training, I don't need an external monitor speaker to take full advantage of the AiR sound engine and the new piano samples.
However, for serious performance, you will need external monitors to bring the volume to the venue.
Casio has developed an app called Chordana Play, which is available for both Android and iOS. You can use it to customize the piano, control its various functions, and have fun learning songs in a modern way.
Unfortunately, you cannot connect your smart device via Bluetooth to use the Chordana Play app. A cable is also required to connect the piano's USB port to your devices. Since most modern smartphones and tablets use a USB Type-C port, you will likely need a USB Type-B Type C cable for this job, but there are still plenty of devices with a micro-USB port. So make sure you have the right cable.
Even more pianos and variations
In the sound selection, which is not exactly small with a total of 700 entries, the categories that are important for a portable piano are fairly well occupied. In the "Piano" group alone there is not only a great "Stage Piano", but also sounds that life from effects such as "Ambient Piano", "Modulated Piano" and "Strings Piano" or "Piano Pad".
There are just as many entries in the "E.Piano" group, which brings together many good vintage pianos such as Fender Rhodes, Wurlitzer, and FM pianos. A larger selection of pipe and electric organs, altogether good string and brass sections, many synth pads and leads but also a lot of guitars and basses are also in the memory. The sound memory is rounded off by various ethnic sounds as well as 31 drum and percussion sets.
Many of the other "additional" sounds cannot qualitatively compete with acoustic and electric pianos. They are more of an average product, and some solo strings or sampled distortion guitars are not really up to date. The overall impression, however, ranges from satisfactory to good, and arrangements from the S3000 sound pleasantly appealing.
Play piano with split, layer, and DSP effects
All sounds can be freely split and layered. The volume ratios for the lower and the two upper sounds are adjustable. The effects department not only supplies the obligatory reverb and chorus master blocks, each with twelve types, but also a DSP unit. Some sounds are already assigned a fixed DSP effect. 
In addition, you can use another DSP effect at any time – the PX-S3000 provides 100 presets with different modulation effects from Phaser, Flanger, and WahWah to Rotary, Drive, and Distortion to the amp and studio effects or a ring Modulator available. The quality of the DSP effects is completely okay.
Small speakers – full of sound!
The built-in oval 16 x 8 cm speakers with 2 x 8 watts of power are the same as in the S1000. The compact playback system delivers a pleasantly powerful and low-noise overall sound even with the large PX model. The speakers radiate to the rear, so the instrument should not be placed too close to a wall with its back. 
The sound remains pleasantly transparent towards the front, as the sound is also radiated upwards through small slots in the control panel. The virtual surround effect for the playback system can also be found in the S3000. And there are also line outputs for external sound output.
Styles: Play piano with auto-accompaniment
With the digital pianos with automatic accompaniment, the arranger functions are usually manageable. The Casio PX-S3000 surprises with a large range of functions in this section. Among the 200 rhythms, there are many accompaniments that motivate you to jam and are a good practice aid when it comes to the band play. 96 memory locations are available for your own registrations for sound style configurations. In addition to a one-touch preset per rhythm with suitable pre-registered sound and other settings, there are 310 music presets. There's a lot of music in there.
The selection from pop, rock, and dance to jazz and Latin to waltzes and co. Is rather conservative. Extra benches with ballads and piano music-oriented accompaniments are welcome.
Sequencer, audio playback, and recording function
As a 16-fold multitimbral instrument and because of the corresponding sounds, the S3000 can play general MIDI files – from a USB stick or a small internal memory. MIDI recording is possible on three tracks (1 x system, 2 x solo).
Audio songs can be played back via the audio input of the S3000 as well as via Bluetooth audio. The Casio piano also offers a recording function for this (WAV, 16 bit, 44.1 kHz, stereo) – for which a USB stick is required. And if you rename existing WAV songs beforehand on the computer according to a Casio diction and load them onto a stick, the portable piano can also do something with them.
Conclusion: super slim design, lots of sounds
The PX-S3000 is a powerful portable piano. It lives through its very good piano sounds and the pleasantly playable keyboard. The on-board amplification delivers a surprisingly powerful and clean sound. If only the piano sounds are in the foreground, then the PX-S1000 and its big brother S3000 are quite similar. 
The automatic accompaniment is a great tool for jamming and practicing, there are still sounds and more from all live categories as well as for extensive MIDI arrangements. Song player and recorder features as well as app-controlled operation complete Casio's offer. And all of this in a super slim case – a great portable piano with many options.