Piano Review Casio Privia PX-780 Review
Piano Review Casio Privia PX-780 Review
Casio Privia px-780Today, we bring you the Casio Privia PX-780 review. The PX-780 is the successor to the PX-750. As you've read in the title, the PX-780 is part of the popular Privia series of digital pianos and has a cabinet-style design. It was released in March 2013 after being introduced at the Winter NAMM (National Association of Music Merchants) 2013 in January.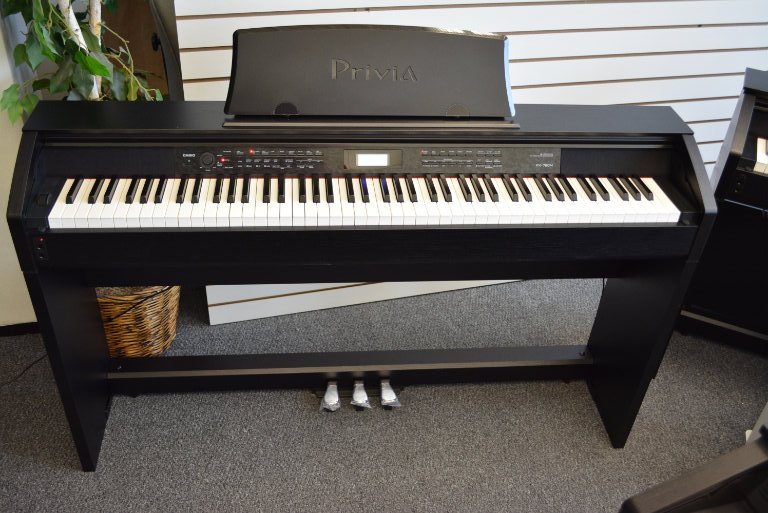 According to Casio, "the new PX-780 represents a significant step in the continuing evolution of the Privia digital piano line. A combination of new keyboard action and a powerful new sound engine provide a new level of detail, nuance, and expression for a superior grand piano experience in the lightweight and stylish design that Privia is known for."
The Privia PX-780 has appeared in our last two monthly best-sellers list. It certainly is gaining popularity. The reviews from critics are positive, too. Based on our experience with the Casio PX-780, it's safe to say that it's got great value and remarkable quality. Before you go on to read the rest of this review, we want you to know upfront that we are not just recommending it, but highly recommending this instrument! That's how great it is. It's definitely one of the top digital pianos under $1,000. We believe it would still be of great value if it was priced higher.
Let's take a look at the features before going into the pros and cons:
88 key weighted Scaled Hammer Action Tri-Sensor Keyboard II
128 polyphony notes; 3 sensitivity levels; Stabilizer
Casio's own "Multi-dimensional Morphing AiR (Acoustic Intelligent Resonator) Sound Source"
250 built-in voices; Damper Resonance and Hammer Response simulator
Split; Layer; Duet Mode; Octave Shift; 6 direct tones
Music Pre-setting options: tapping function; Parameter editing
Rhythm editor w/ 180 built-in, 10 users, 8 direct rhythms; 1-touch preset option
6 Demo songs; 10 User songs; 25 steps Key Transpose
4 Reverb and 4 Chorus settings; Brilliance and DSP
"Auto-Harmonize" feature; Metronome
Backlit LCD Display; Pitch Bend Wheel; SP-3 Pedal included
USB; MIDI in/out; 2 headphone outputs; Line-in/out
2 x 20W Amplifiers; two 5.1" x 2.4" speakers
Weighs 69.5 lbs. (31.5 kg)
Casio px-780 review
The Pros:
Thanks to the dynamic AiR Sound Source (something you don't get in Yamaha models), and the improved Scaled Hammer Action Tri-Sensor Keyboard II, the feel and the sound of this digital piano is as close as you can get to an acoustic piano.
The upgraded AiR sound source uses 3 times the memory compared to its predecessor. If you blindfold yourself and played the PX-780 and an acoustic piano, you will have trouble telling the difference.
Casio's tri-sensor that is added to the already great weighted keys, making it fun to play this instrument. The keys respond well regardless of your playing style.
On top of the excellent sound quality and the touch response, the physical look and feel of the keys is of better-quality as well. The keytops have synthetic ivory and ebony surface. The result is a smoother finger movement when playing.
The built-in speakers are great but not as great as the ones on the pricier (insert a link to) PX-850.
Consider its affordable price, you get a ton of built-in instrument tones. How many you might ask? 250! Nope, that's not an extra zero. There are expensive digital pianos out there with a fraction of 250 tones. With the PX-780, you get 250 tones.
Additionally, this model also comes with 180 built-in rhythms. These are added bonuses that will benefit various musicians. And there are so many more extras all of which are quite notable.
With a built-in metronome, duet mode, and split/layer, it's great for new learners. And there are also 2 headphone outputs that can be used when two individuals want to play simultaneously. Although these features-for-learners are getting common, they are still an advantage worth mentioning here.
The built-in backlit LCD display is easy on the eyes. The pitch bend wheel is also an added bonus something you mostly get on digital pianos over $2,000.
Variety of connectivity capabilities (USB, MIDI, Line In/Out, iPad connectivity, etc.) making it live easier when you need to compose music and transfer files back and forth.
Looks decent, and has a sliding keyboard cover for protection against dust and spills or any other "danger" to the keys.
The Cons:
Like already said, speaker system is reasonable. However, just attach headphones or external speakers for a powerful sound. Problem solved Bench sold separately.
Conclusion:
As you can tell from what you have read so far, we love the Privia PX-780. Considering its price (which is less than $1,000) you may get overwhelmed (in a good way) with the number of features and the tones in this instrument. The quality of the sound and touch response of the PX-780 is actually comparable to the quality you get in pricier ($2,000+) Roland and Yamaha models. Casio has definitely upped their game. It was only released earlier this year, yet it has gained popularity fairly quickly.
Good for: both new learners and experienced pianists on budget, but want exceptional quality
Not so good for: highly experienced musicians and those who frequently play at gigs it's not really portable due to its cabinet style design
Final Verdict: Highly Recommended